نه و نیم هفته فیلمی در ژانر اروتیک، رمانتیک و درام به کارگردانی آدریان لین است که در سال ۱۹۸۶ منتشر شد. این فیلم بر اساس رویدادنامه‌ای به همین نام نوشته نویسنده اتریشی-آمریکایی اینگبورگ دی ساخته شده است.
«نه و نیم هفته» (انگلیسی: 9½ Weeks) یک فیلم در سبک رمانتیک و درام به کارگردانی آدریان لین است که در سال ۱۹۸۶ منتشر شد.

این فیلم در فهرست سکسی‌ترین فیلم‌های تاریخ سینمای جهان که توسط وبگاه بانک اطلاعات اینترنتی فیلم‌ها (IMDb) منتشر شد، مقام دوم را کسب کرد.
خلاصه :
روزی «الیزابت» (بیسینگر) که در گالری سوهوکار می‌کند، به‌طور اتفاقی «جان» (رورک) مردی مرموز را در یک خواربارفروشی چینی ملاقات می‌کند. در ملاقات بعدی، «جان» پیشنهاد رابطه‌ای نزدیکتر را می‌دهد. «الیزابت» قبول می‌کند. از این پس «جان» کنترل اوضاع را در دست می‌گیرد و «الیزابت» به تمامی خود را تسلیم خواسته‌های او و این تجربه جدید می‌کند. «جان» هر زمان که دلش بخواهد، «الیزابت» را فرا می‌خواند و در مکان‌های عجیب با او قرار می‌گذارد تا اینکه «الیزابت» احساس می‌کند در این بین احترام شخصی‌اش پایمان می‌شود. او که تاکنون اعتراض جدی به این نوع رابطه نکرده، هنگامی که خواستار آزادی و احترام شخصی‌اش می‌شود، رفتارهای بیمارگون «جان» بروز می‌کند.
کیم بیسینگر بازیگر آمریکایی و دست‌اندرکار صنعت مد است. او با بازی در فیلم‌های دیگه هیچوقت اینو نگو (۱۹۸۳) و بتمن (۱۹۸۹) معروف شد. بسینگر به‌خاطر بازی در فیلم محرمانه لس آنجلس (۱۹۹۷) برندهٔ جایزه اسکار، جایزه گلدن گلوب و جایزهٔ انجمن بازیگران تلویزیونی را برای بهترین بازیگر زن مکمل شد. او همچنین در هشت مایل و نه و نیم هفته ظاهر شد.
فیلم اروتیک به فیلم‌هایی گفته می‌شود که دارای صحنه‌های جنسی و اروتیک و یا با مفهوم آمیزش جنسی است، که شامل صحنه‌های معاشقه می‌شود. این فیلم‌ها متمایز از فیلم‌های سکسی می‌باشند که از آنها با نام فیلم پورنوگرافی و یا فیلم‌هایی با مفهوم آموزش مسائل جنسی یاد می‌شود.

از دوره فیلم صامت در دنیای فیلم‌برداری، صحنه‌های اروتیک در فیلم‌ها موجود است. بسیاری از بازیگران زن و مرد اندام بدن خود را آشکار نموده و در صحنه‌های برانگیزنده و خارج از عرف زمان خود در دوره کاری خود نقش ایفا نمودند. برخی از این فیلم‌ها توسط محافل دینی نقد شده‌اند و یا برخی حکومت‌ها ممنوع‌شان کرده‌اند و یا هردو.
The title of the film refers to the duration of a relationship between Wall Street arbitrageur John Gray and divorced SoHo art gallery employee Elizabeth McGraw in her early 30s. John initiates and controls the various experimental sexual practices of this volatile relationship to push Elizabeth's boundaries. In doing so, Elizabeth experiences a gradual downward spiral toward emotional breakdown.
Elizabeth first sees John in New York City at a Chinese grocer, and later at a street fair where she decides against buying an expensive scarf. John wins her heart when he eventually produces that scarf. They start dating, and Elizabeth is increasingly subjected to John's behavioral peculiarities; he blindfolds Elizabeth, who is at first reluctant to comply with his sexual demands, but eventually surrenders to them. He gives her an expensive gold watch, and instructs her to use it to think about him touching her every day at noon. She takes this imperative even further by masturbating at her workplace at the designated time.
Elizabeth wants to include John in her life and meet her friends, but he makes it clear he only wishes to see her in the evenings, and instructs her to see her friends in the daytime.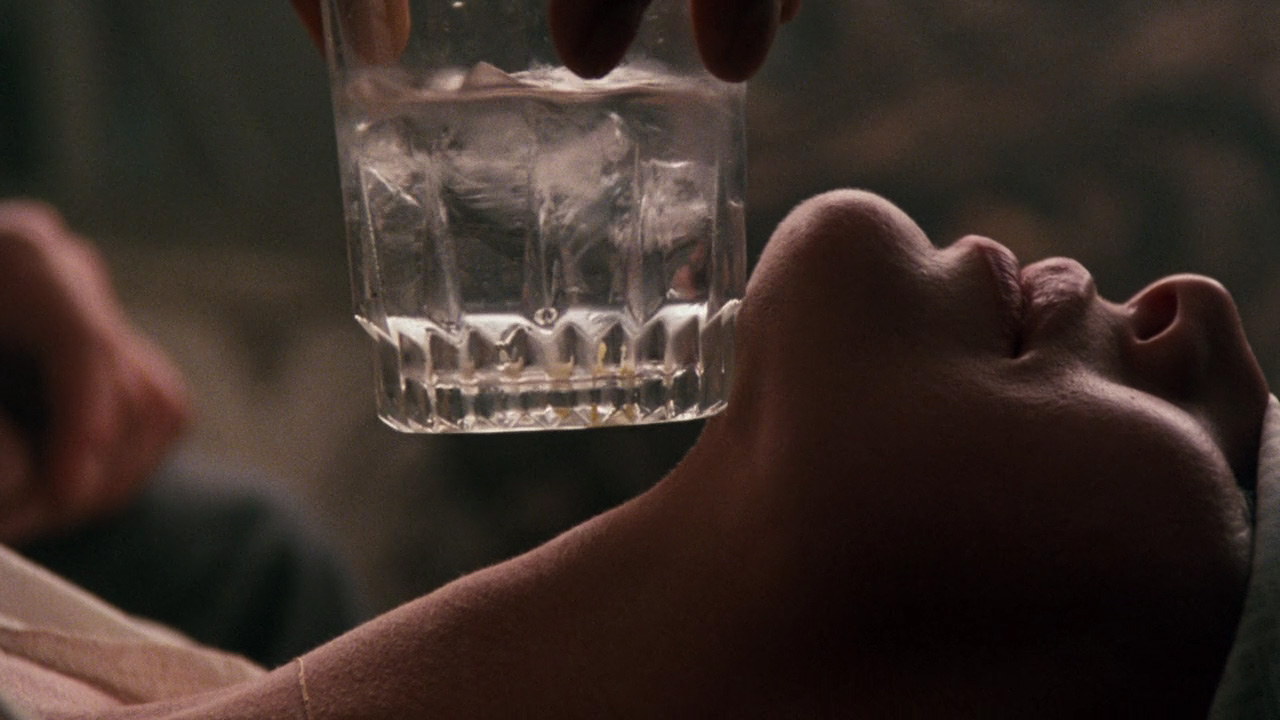 Elizabeth's confusion about John increases when he leaves her alone at his apartment. She examines his closet until she discovers a photograph of him with another woman, April Tover. John asks her if she went through his things, declaring that he will punish her. He then sexually assaults her.
Elizabeth's heightened need for psychosexual stimulation drives her to stalk John to his office. When they have lunch and she mentions she would like to "be one of the guys," he arranges for her to crossdress for a rendezvous. On leaving the establishment, two men hurl a homophobic slur when they mistake John and Elizabeth for a gay couple. A fight ensues. Elizabeth picks up a knife from one of the attackers and stabs one of them in the buttocks and both attackers flee. After the fight, Elizabeth reveals a wet tank-top and has sex onsite with John with intensely visceral passion. Following this encounter, John's sexual games acquire sadomasochistic elements.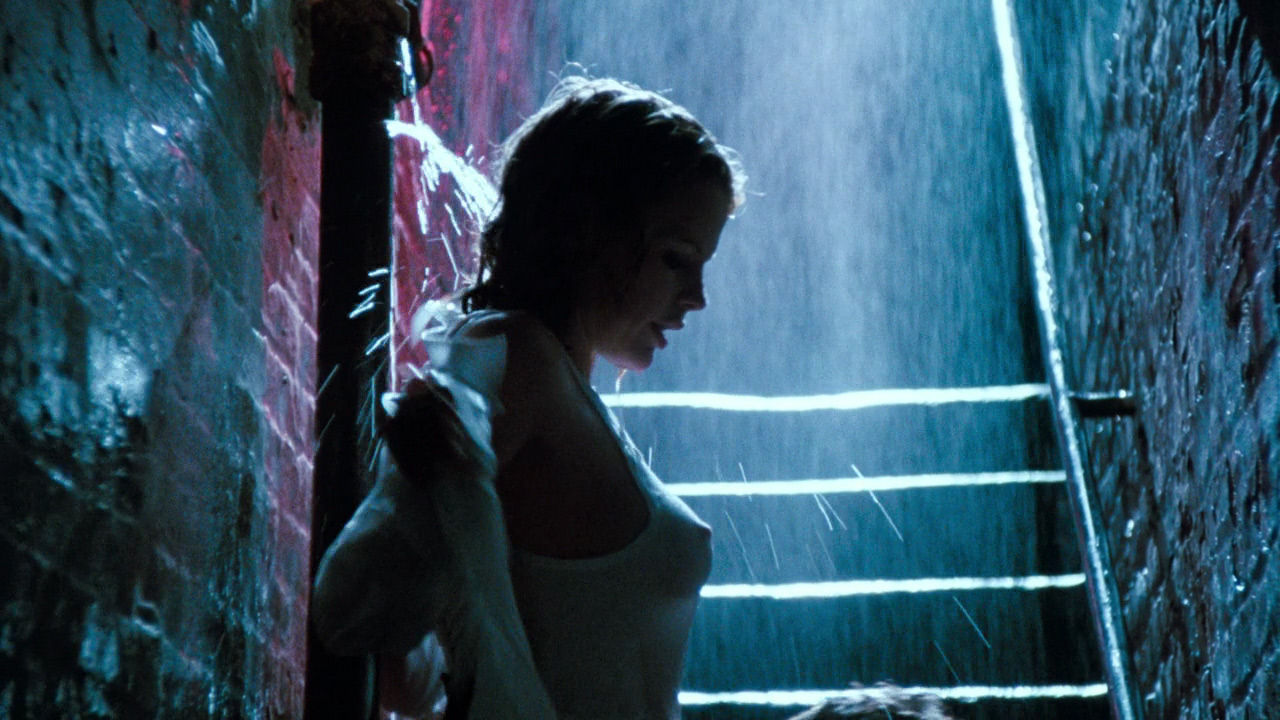 Rather than satisfying or empowering Elizabeth, such experiences intensify her emotional vulnerability. While meeting at a hotel room, John blindfolds her. A prostitute enters the room, and starts caressing Elizabeth as John observes them. The prostitute removes Elizabeth's blindfold and starts working on John. Elizabeth violently intervenes, and flees the hotel, with John in pursuit. They run until they find themselves in an adult entertainment venue. Elizabeth enters a room where a group of men are watching a couple have sex. Elizabeth, visibly upset, notices John watching her, and she starts kissing the man next to her. This affects John, and he moves towards her. Moments later, John and Elizabeth gravitate towards each other, finding themselves interlocked in each other's seemingly inescapable embrace.
Elizabeth's exhibition with the artist Farnsworth finally happens, but it's clear she's coming apart. In a sad scene, Farnsworth, clearly uncomfortable at the party, watches Elizabeth hiding in a corner, crying. Elizabeth leaves the party and calls John.
The following morning, we see Elizabeth has spent the night at John's. She gets up, and slowly packs her belongings from his apartment. When John realizes she's leaving, he attempts to share with her details about his life. Elizabeth tells him that it is too late as she leaves the apartment. John begins his mental countdown from 50, hoping she will come back by the time he is finished.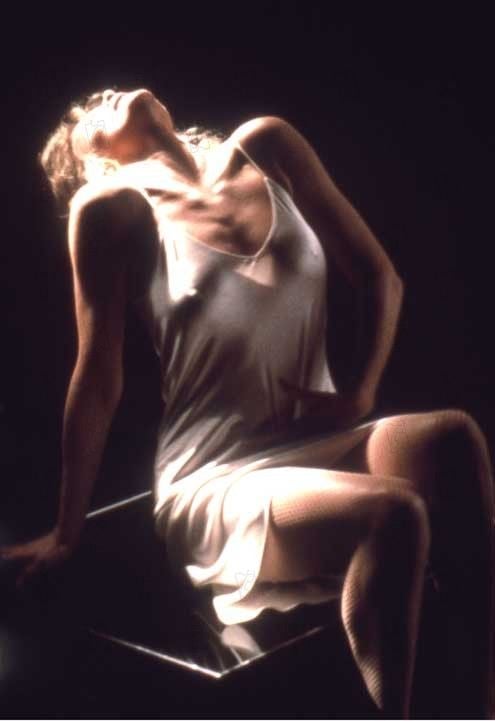 Quando perguntado onde estavam os limites do abuso em relação a um ator, Lyne explicou, que como se tratava de um relacionamento sadomasoquista, os limites são definidos pelos participantes. "Se não pudesse suportar, seria perceptível diante da câmera. Ela ficaria louca. Desmoronaria." Mas, e se a cena precisa justamente que a personagem desmorone? "Então, é legítimo. Você está fazendo isso pelo filme."
Kim declarou que "depois de terminar o filme, não queria ver ninguém que tivesse participado das filmagens. Se chegasse a encontrar com o cara que me trazia o café, eu o teria matado". Lyne, por sua vez, argumentou que a atriz sabia que no fundo estava sendo ajudada pelo diretor com sua tortura passivo-agressiva: "Não foi agradável, mas foi útil. Kim é um pouco como uma menina. É inocente. Isso é parte de seu atrativo. Ela se tornou sua personagem durante dez semanas, não estava interpretando. Para deixá-la irritada, eu ficava agressivo com ela, e ela ficava agressiva comigo. Mickey também tinha de assustá-la de propósito. Kim não é uma intelectual, não lê livros. Na realidade, não atua, apenas reage, uma qualidade que Marilyn Monroe também tinha".
Basinger, admitiu que não lia livros porque tinha muito pouca capacidade de atenção, e sobre o filme disse que "Seria difícil decidir se voltaria a fazer [o filme], mas, no final, teria que dizer sim. Houve momentos em que quis abandonar tudo, em que me perguntava se [Adrian Lyne] era um homem doente ou se todos estávamos doentes por nos prestar a isso. Mas, no final, enfrentei meu medo e passei por isso". "Todas as atrizes deveriam experimentar algo assim, saí mais forte do que em toda a minha vida", concluiu Basinger.